Activists block Lancashire Fracking site in support of Italian pipeline struggle
Today (Tuesday 18th Juy 2017) activists blocked the entrance to Preston New road fracking site in support of an Italian community resisting a gas pipeline in Southern Italy and resist gas expansion everywhere.
More photos on Reclaim the Power Flickr
Following solidarity speeches and photo from the roadside about the Italian struggle, a 2-minute die-in in front of the Cuadrilla gate allowed 4 activists with 'arm-tubes' in rucksucks to 'lock-on' and secure the blockade, halting work into the site. The action was completed without incident before Police had time to react.
A banner saying 'No Dirty Gas' in Italian and English has been unfurled across the entrance.
Jake Woods, who is locked on outside Preston New Road said,
"I'm blocking Cuadrilla's fracking site today to say no new dirty gas, here or anywhere. Gas is being sold as a clean, green fuel but it's a bridge to nowhere. From Lancahsire to Puglia, communities across the globe are causing serious headaches for the fossil fuel industry. We will not let them ruin our homes for this polluting fuel"
In Italy the town of Melendugno, in Puglia, have been using peaceful direct action to stop the construction of the Euro-Caspian Mega Pipeline, a 3500 kilometer gas pipeline that would run from Azerbaijan to Southern Italy. If built the pipeline would destroy Melendugno's world famous beaches and 2000 year old olive tress, as well as the livelihoods of the people who live there.
In both Lancashire and Melendugno local government decisions rejecting gas extraction were overturned by national governments, forcing the communities to take action. At the start of July similar images of police brutality in both Lancshire and Puglia appeared on line, inspiring today's activist to hold a blockade in support of the town of Melendugno.
 Today's action comes as part of the 'Rolling Resistance' month of action, organised by local anti-fracking groups and national network Reclaim the Power. It aims to disrupt work at Cuadrilla's site every day in July [1].
The blockade marks the thirteen working day disrupted at the site since the beginning of the month – actions so far have included multiple lock-on blockades, two mass public demos, and people climbing onto delivery lorries [2].
ENDS
CONTACT: For all press enquiries, interviews and information, please contact +447498908993.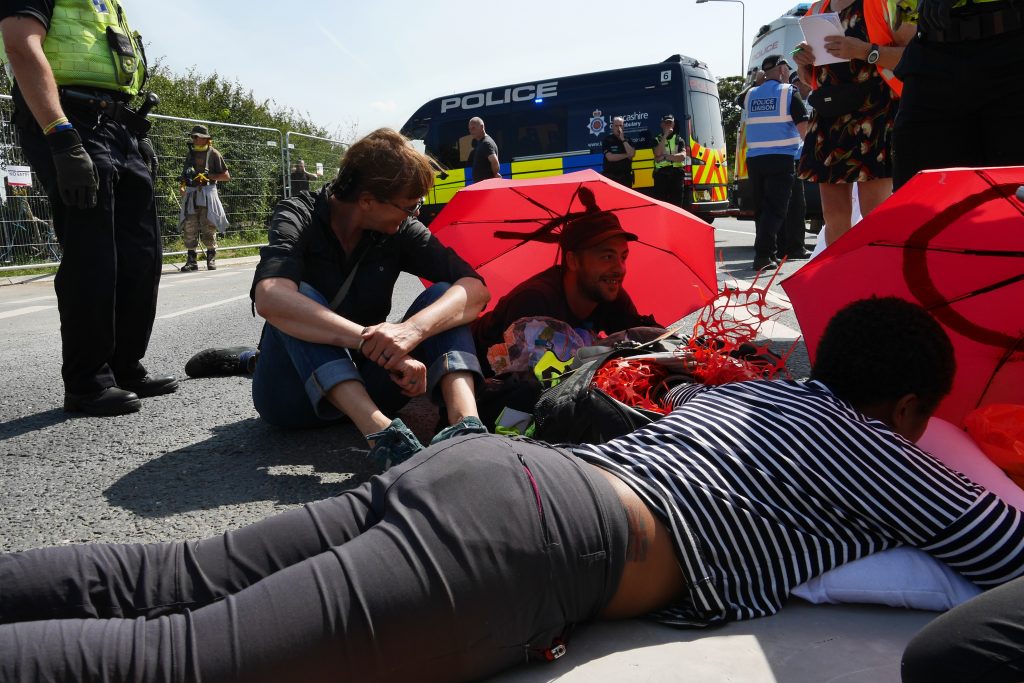 Notes to Editors
[1] Reclaim the Power is a UK-based direct action network fighting for social, environmental and economic justice. They been working to oppose fracking since 2013 when they organised mass action at Balcombe. Since then, they've hosted anti-fracking action camps in Blackpool and at Didcot Power station, and taken countless actions to expose and resist the industry as well as the businesses in its supply chain. Read more at reclaimthepower.org.uk

[2] For a round up of the fortnight's actions see: https://reclaimthepower.org.uk/news/rolling-resistance-weekly-round-up-week-2/