In 2014 Reclaim the Power made a pledge to the anti-fracking Nanas of Lancashire- that if they were threatened with fracking at Preston New Road we would support them in their struggle. The time has now come for us to begin fulfilling that promise.
Sadly at the beginning of the year fracking dragons Cuadrilla started preparation work on what they hope will be their first fracking site in the UK (at Preston New Road), since we battled them at Balcombe back in 2013. We helped beat them at Balcombe, supporting the locals there to remain frack-free. We are part of an alliance that can beat them up here too, and again locals are asking for our help. We intend to answer them.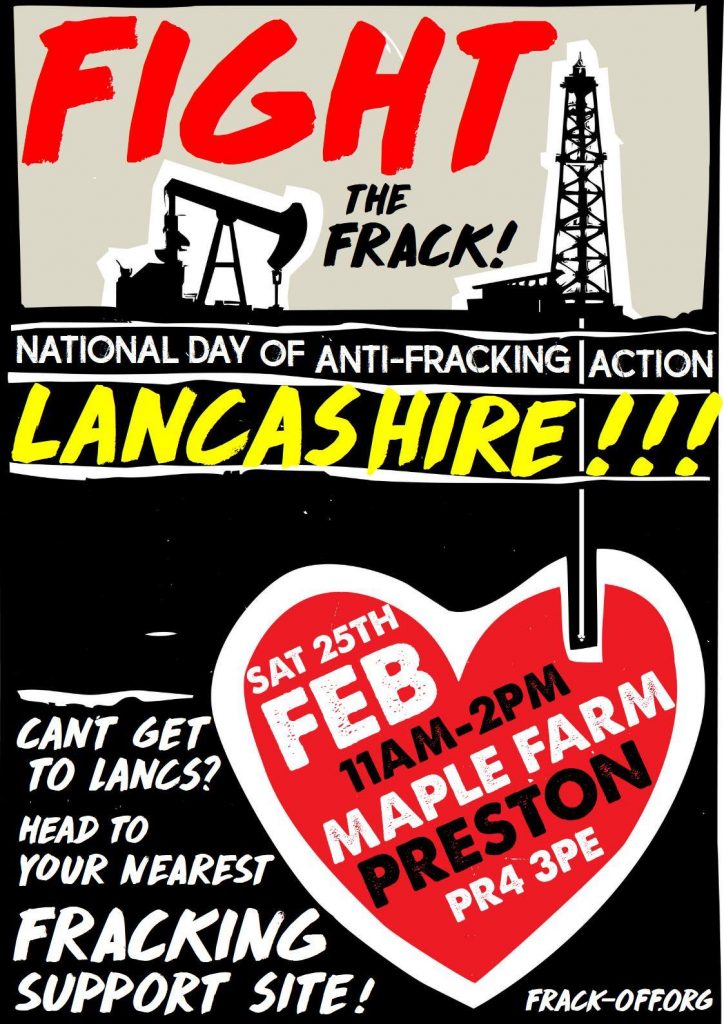 For over six long years, people in Lancashire have been resisting fracking proposals, enduring attempted smears, industry spin and even earthquakes. They worked tirelessly to convince the County Council to reject this particular proposal, and although the council actually did so, in a show of disregard for local democracy Tory Communities Secretary Sajid Javid wielded executive power to overturn the local council's decision and allow Cuadrilla to frack Lancashire.
Make no mistake, this is now the key national front-line against fracking, and it's crucial that we make a serious show of solidarity and strength against this dirty, extreme fossil fuel industry riding roughshod over the wishes of local people in pursuit of profit. To this end, Frack Free Lancashire has called a national rally on Saturday 25th February from 11am. They are asking all their supporters nationwide to make the trip there on this day and show the frackers their dirty business is not welcome- not in Lancashire, and not anywhere.
In 2014 we stood on the patch of land where Cuadrilla and AE Yates are now constructing a frack pad.  We stood with the Nanas and other people from Lancashire, hosting a national action camp where we took numerous direct actions against the fracking industry across the country. We pledged to the Nanas then that if Cuadrilla ever tried to frack that field, we'd be back to join them in their battle. The time has now come for us to make good that promise. We have exciting plans in the pipeline for future resistance to Cuadrilla, mobilising every element of Reclaim the Power's network against them, but for now we are asking anyone who can make it to Lancashire to join us for this national rally. Please do join us, and share with all your friends and contacts.
Further details of the day on the Frack Free Lancashire Facebook event page here. 
Info on organising or finding transport here available on the Frack Off website here.
Further Information for those not on Facebook, copied from the event page linked above, follows:
DON'T FRACK LANCS – NATIONAL RALLY
Saturday 25 February 2017
Preston New Road, Lancashire
11am – rally starts 

(to be followed by a water blessing event – https://www.facebook.com/events/379564972423486/)

The BIG one… will you show up? ?
As part of the ongoing Solidarity Saturday's we are calling a national rally and beg your support. Please come if you can to show support for residents and their long and ongoing campaign to stop fracking at Cuadrilla's proposed fracking site on Preston New Road. It's more important now than ever that we send a strong message to the fracking industry – that there is no social licence for fracking in Lancashire (or anywhere).
The Rally with community activists is family-friendly and there will be transport options advertised soon. Refreshments, music and speakers, including local residents, the Nanas, local businesses, trade unions, environmental groups and others.
Supported by: Preston New Road Action Group, Friends of the Earth, Public and Commercial Services Union (PCS), Greenpeace UK, Reclaim The Power , UCU – University and College Union, and others (TBC).
Called by: groups and residents who comprise Frack Free Lancashire.
The planning for this site has been REJECTED by our council, REJECTED by tens of thousands of residents and is the subject of two legal challenges that have yet to be heard – yet still, Cuadrilla has started work at Preston New Road. Westminster bypassed local democracy to make this happen and overturned the council decision at appeal. IF we can't succeed in stopping them here – then we are challenged further at sites where councils have given in due to political leaning and huge cost of rejecting (only to potentially have that overturned) We urgently need a strong showing of national support to be heard and to help local residents who are campaigning daily to stop fracking in Lancashire.
Each day for over a month, people have gathered to delay Cuadrilla's progress. They continue to receive huge support from passers-by. Online too there is a wealth of support that nourishes the daily actions and ensures visibility. But not everyone can be at the demonstration each weekday 9am-3pm; so on Saturday 25 February, the National Rally though can bring us all together to call as one, for this industry to be stopped.
This is an opportunity for people from across the country – as well as passers-by, drivers who honk support, visitors, residents, Protectors and frack-free groups from everywhere to show that we stand with local people and send a message to Cuadrilla that they have no social license to frack in Lancashire.
There will also be Frack Free Lancashire merchandise, information sheets and plenty of people who can answer questions. You can park at World of Water and Preston New Road is on the bus route between Blackpool & Preston. Check with your frack-free group or Frack Off (UK) to see if buses are going from your area.
We do hope you can join us ?
Activities for the day 25 February – all welcome!
> 11am arrive and rally starts
> 2pm rally ends (BUT many will be staying for further music and solidarity as well as a blessing for the water)