This morning (Wednesday 19th July 2017) five campaigners blocked the entrance to Cuadrilla's fracking site on Preston New Road in Lancashire to protest the impact of climate change.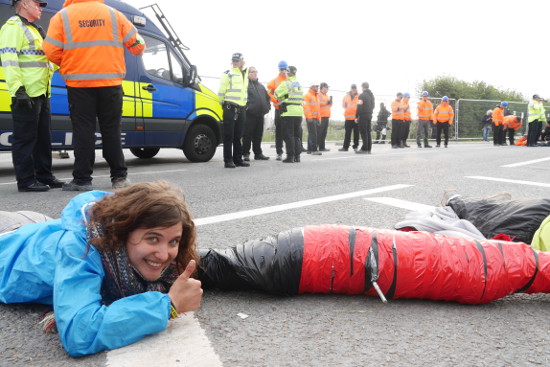 The five women are locked on to devices across the front entrance of the site to disrupt work for the day in order to call for an end to fossil fuel extraction and a development in renewables.
Contact: press@nodashforgas.org   and 07498908993
Photos available on Reclaim the Power Flickr
Skye Golding, one of the women locked on said:
"We're here today to stand with the local community, but also to think about the bigger picture. Across the world there are 300,000 lives lost a year as a direct impact of climate change and this will only increase with the development of a new fossil fuel industry. Those least responsible for global warming are the most affected. They did not ask for these impacts, just as the community of Lancashire did not ask for fracking".
The women said they had also travelled from Leeds for fear of impact on water supplies and treatment after discovering that waste water from the Cuadrilla site would be travelling to the Knostrop treatment works in Leeds.
Coralie Datta another of the activists at the site said:
"In countries where fracking is already happened there are repeat cases of water contamination, both in the ground and during the treatment process. The process of treating post-fracking water in the UK is unknown but Leeds' Knostrop treatement works is one of the few sites in the UK that has been designated to take fracked water and that is a huge concern to me".
Concerns around fracking waste water have existed since Cuadrilla discharged two million gallons into the Manchester Ship Canal after being processed at the Davyhulme treatment works in Trafford in 2014.[2]
Today's protest forms part of  the 'Rolling Resistance' month of action by national direct action group Reclaim the Power.[3]
Notes to Editiors
[1] http://www.bbc.co.uk/news/uk-england-25902272
[2] http://cdn.frack-off.org.uk/wordpress/wp-content/uploads/2015/08/2015-03-04-FoE-Watson-Response_to-LCC.pdf?x22615
[3] https://reclaimthepower.org.uk/