September 2020 National gathering
Thursday 13th August 2020
After the success of Reclaim the Power's first online gathering back in April, we're excited to announce the dates for our next: Saturday 5th and Sunday 6th September.
Our September 2020 national gathering includes coffee morning socials, proposals, workshops, creative activism, anti-racism work, entertainment and your invitation to host a 1 hour session as part of our open space!
We will be using Zoom for all gathering sessions across the two dates. If you aren't familiar with zoom, we can offer tech support in advance of the gathering. It's a good idea to test your tech set up before you try joining the gathering.
Read on for:
Draft Agenda
Gathering access and registration information
How you can get involved, including your invitation to propose and host a session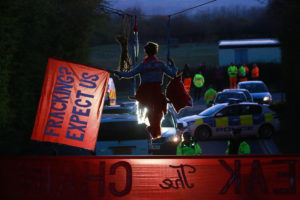 Our agenda is shaping up and will be released in full two weeks before the gathering.
We can tell you now that the agenda timings will look like this:
Saturday 5th August:
9:30am to 10am – Familiarisation session
10am to noon – Introduction, reflections on the current context and collective creative action (TBC)
12pm – 1pm – BREAK
1pm to 3pm – Proposals and decisions for next steps
3pm to 3:30pm – Pint (BYO), social time and entertainment TBC
Sunday 6th August:
9:30am to 10am – coffee morning catch up and welcome (chat and connect social time – coffee BYO!)
10am to noon – Anti- racism
12pm – 1pm – BREAK
1pm to 3pm – Updates and Open Space sessions (TBC)
3pm to 4pm – Pint (BYO), social time and entertainment TBC
You are welcome to join for as many or as few sessions as you wish.
---
Registration and Access
We think it's important that everyone can participate. Read the full access information for the September gathering here. If you have any access needs, please contact info@reclaimthepower with 'Access for Gathering' as your email subject and we'll be happy to help. You can also request access support by completing the google form as part of the registration process below.
Once you have registered to join the gathering, we will be emailing out joining instructions and updates to the email address you provide us with.
You can register in one of the two following ways:
or
Email us to register for the gathering and request access support on info[at]reclaimthepower.org.uk
Our accessibility contact for the Gathering is Em. Em will be available to discuss access requirements ahead of the gathering. They will also be on hand to provide support to anyone who needs it throughout the weekend – more information at the pdf link above.
Access to the internet:
If you don't have good access to the internet, we might be able to help. We have a pot of money to overcome any barriers that might get in the way of you attending an RTP gathering and can offer to pay for internet data you might need to buy to join us on Sat 5th or Sun 6th September. Please get in touch to request data/internet support by emailing info@reclaimthepower with 'Access for Gathering' as email subject and we can pay for your data with no questions asked.
Alternatively we can support you to join the gathering by phone – please contact us on the email above in advance.
---
How you can get involved!
Everyone involved in Reclaim the Power does it unpaid and voluntarily. We are looking for people to help out with the September gathering; the following roles will involve around 30 minutes of preparation chat and a short tech check call prior to Sat 5th September.
Help facilitate on the day


Propose and host a session on the gathering agenda in the open space slots

Provide tech support for people joining the gathering on the day

Provide 'live captioning' for folks who prefer or need captions rather than or as well as audio or sound.
1. Facilitators ahoy there!
We're looking for facilitators, both experienced and budding newbies, to help us run the online gathering. If you have experience facilitating (preferably with online experience) and would like to join the facilitation team for this gathering, please contact us on info@reclaimthepower with 'Facilitation for Gathering' as email subject.
If you'd like to try your hand at facilitation for the very first time, we will pair you up with an experienced facilitation buddy and you can dip your toes in the pond of co-facilitation on either the 5th or 6th of September – please contact us on info@reclaimthepower with 'Facilitation for Gathering' as email subject.
2. Open Space! Host a 1 hour session Sunday 6th September – apply now!
This gathering includes a 1 hour open space for anyone in the wider Reclaim the Power network to propose, develop and host a session online as part of the gathering agenda.
We can host up to 3 open space sessions in total (running at the same time so people will choose which they would like to attend) and you will need to be able to host via zoom. The session should be relevant to the aims of Reclaim The Power and suggestions should be sent to info@reclaimthepower by 20th August. We will look for ideas that prioritise and/or incorporate anti-oppression thinking and action. For more information or to chat a session idea through, please email info@reclaimthepower and put 'Open Space' in the subject line.
3. Techerama! Are you a tech nerd hero?
To provide tech support we'd like a healthy sized team of folks who can be available by email, text or in the chat boxes of zoom to support everyone to participate as full as possible at the online gathering. With enough people the tech support shifts might be as short as 1 or 2 hours max. If you can join the tech support team and are comfortable with using zoom and a variety of online tools and devices, please sign up to a shift by emailing info@reclaimthepower with 'tech support for Gathering' as email subject.
4. Live captioning – are you comfortable with listening and typing?
We are aiming to provide live captions for the gathering sessions (this will exclude the socials and live music). This involves one person listening to a session while typing what they hear (it is easier if you are comfortable with typing at a medium or fast speed) into a text box on their screen. If someone at the gathering requires live captions, they will be able to read the words of the facilitators / gathering attendees in real time and participate in the gathering without needing to use audio or sound.
If you are live captioning at the gathering, you will only be doing it for 1 session or a maximum of 1 hour – so aside from the one session, you'll be able to join the rest of the gathering as you usually would. Please email – info@reclaimthepower with 'Access for Gathering' as email subject if you can sign up to Live Caption a session for this gathering.
---
Don't forget to register for the gathering now using this form.
Can't wait!
In solidarity,
Reclaim the Power
We've also adapted our Safer Spaces policy for our digital gathering. Find it here:
https://docs.google.com/document/d/1wp8x5-cqLfCk0Af7nyiIqyQCfbGmDml7R1vNxNOUmjI/edit
Our Facebook Page usually has the most up-to-date information about upcoming events.
https://www.facebook.com/pg/ReclaimThePower/events/