Fighting Fracking? Come to a Reclaim the Power Direct Action Training
Training weekends will take place in Hebden Bridge (13-14th May), Nottingham (3-4th June) and Brighton (10th June)
Facilitated by experienced trainers from Seeds for Change and Green and Black Cross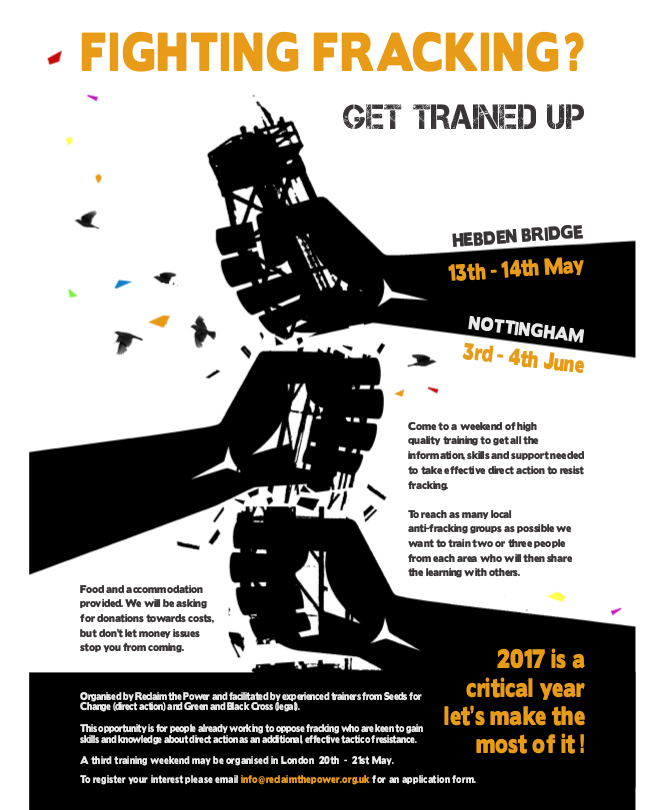 As resistance to this dirty industry intensifies, Reclaim the Power is holding a number of anti-fracking Direct Action Training weekends. As well as getting lots of skills, knowledge and practice these weekends will be important for networking with others who are resisting fracking in your region – a place to share ideas and resources to help build a stronger, more cohesive movement.
Nottingham –  More Info:
This is a great opportunity to find out about non-violent direct action as an additional, effective tool to combat fracking. We hope that, by reaching people from many communities and groups determined to resist this unnecessary, damaging threat to our environment, our training weekends will help strengthen the movement.
Topics we will cover include:
Why direct action?

Practical direct action techniques

Being creative, capturing the imagination

Planning and organising an action – what is involved?

Buddies and affinity groups

Media – getting the message out

Legal training
As well as learning a lot, we expect to build solidarity and have fun!
The training is from 10am on Saturday until 4pm on Sunday.
Vegan meals and basic accommodation will be provided.
We will be collecting donations towards our costs but please do not let lack of money prevent you from applying.
To apply for a place please download and complete the Nottingham form and then email it to info@reclaimthepower.org.uk

We will then contact you with more information.
Brighton –  More Info:
Reclaim the Power would like to invite you to join us in Brighton for a day's training in Non-Violent Direct Action. We hope to equip trainees with the tools, knowledge and confidence to take effective, peaceful action against fracking. Through sharing resources and skilling-up activists from various groups and backgrounds, we aim to support and cultivate an unstoppable resistance against this unnecessary, damaging threat to our environment and our communities.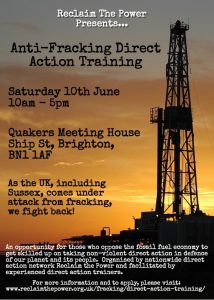 Topics include:
Why Direct Action?

Understanding Non-Violence

Types of Direct Action

Direct Action Techniques

Affinity Groups and Buddies

Legal Training


Facilitated by experienced Direct Action trainers.
10am – 5pm, Friends Meeting House, Ship St, Brighton BN1 1AF
Vegan Indian lunch (from Bombay Aloo) and snacks will be provided. Suggested donation £7.
To apply, please complete the Brighton form and email it to info@reclaimthepower.org.uk