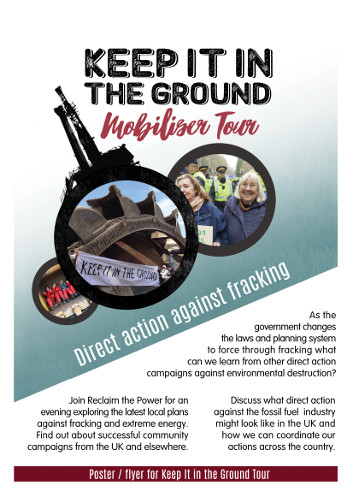 After years of being pushed back by community efforts to oppose fracking, the extreme energy industry is still pressing ahead with plans to extract shale gas and other unconventional fossil fuels across the UK.
Meanwhile, other fossil fuel extraction sites are still receiving planning permission despite government pledges to phase out fossil fuels in the Paris Agreement made in December 2015.
With commercial-scale fracking sites such as Preston New Road in Lancashire having recently become operational, Reclaim the Power is teaming up with local campaigners to discuss what strategies and tactics could be most effective to oppose these destructive industries.
We are organising a mobilisation tour with local groups across the UK to discuss:
the latest plans from the fracking and coal industries to extract fossil fuels in the UK
what is direct action, and how can it be a powerful tactic to help communities achieve change
what we can learn from previous direct action campaigns against environmentally destructive projects such as the Franklin River Dam campaign, and Bentley Blockade against fracking in Australia
what might direct action against the fossil fuel industry look like here in the UK
how we can coordinate our actions to stop these dirty industries in their tracks
plans you can join in to take down the fracking industry in 2017
Keeping It In the Ground – Mobilisation Tour
This page will be updated regularly as we confirm dates, venues and times.  (Last updated on 2nd Feb 2017)
Monday 20 February: York, 7pm start  
Address: Room D/L/002, Derwent College, University of York Labour Club, University Road, York, YO10 5DD
York Facebook Event.  Download York flyer
Thursday 23 February: Retford, 6pm start (6pm for food beforehand, 7pm for event) 
Address: Labour Hall, Retford, DN22 6EG
Retford Facebook event. Download Retford flyer

Monday 27 February: Darlington, 7pm start
Address: The Forum Music Centre, Borough Road, Darlington DL1 1SG 
Darlington facebook event. Download Darlington flyer

Tuesday 28 February: Wigan, 7pm start
Address: Sunshine House Community Centre, Wellington St, Wigan WN1 3SA
Wigan Facebook Event. Download Wigan flyer

Wednesday 1 March: Lytham St Annes, 7pm start
Address: The Pavilion Cafe, Ashton Gardens, St Georges Road, Lytham St Annes, FY8 2AE
Lytham St Annes Facebook event. Download Lytham St Annes flyer

Thursday 2 March: Northwich, 7pm start
Address: The Venue, Gadbrook Road, Rudheath, Northwich, CW9 7JL
Northwich Facebook event. Download Northwich flyer

Friday 3 March: Liverpool, 6.30pm start (6.30pm for food beforehand, 7.30pm for event) 
Address: Next To Nowhere Social Centre, Basement, 96 Bold Street, Liverpool L1 4HY
Liverpool facebook event.  Download Liverpool flyer
If you would like to co-organise a similar event in your area please contact info@reclaimthepower.org.uk