What a way to start.
This month's Rolling Resistance against fracking kicked off in inspirational style, with local residents, including three Local and County Councillors and an ex-civil servant, setting a high bar for courageous actions. The 13 people blockaded the entrance of the fracking site in the early hours to stop any trucks getting in to drill at Preston New Road.
10 of these people have never taken non-violent direct action before, but with their beautiful home at risk from Cuadrilla's drill (expected to arrive any day now), they took the brave decision that now is the time to escalate.
This action marks the longest ever blockade at the Lancashire site, with the heroic Michelle remaining locked-on in her wheelchair for 36 hours (!) while authorities struggled to remove her. Another resident remained in place blocking Cuadrilla's access to the site for a whopping 15 and a half hours.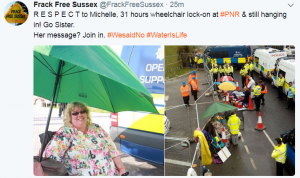 The participants in this bold action say it best themselves. Here's their story – watch and share. 
The clear message of Lancashire County Councillor Gina Dowding speaks to the injustice of fracking being imposed on a community that said no to fracking through the democratic process: "We are putting our bodies on the line because our voices haven't been heard."
Fylde Borough Councillor for Warton and Westby, Julie Brickles, added, "Residents are rightly scared and we have now run out of options."
Councillor Miranda Cox, who told visitors to the Rolling Resistance launch event on Saturday that she'd never have considered herself an activist before, said, "When your community and family is threatened, you are often left with little choice but to take direct action. As a councillor and member of this community, I have been left with no more alternatives." She kept smiling, even while being arrested, showing the commitment shared by all these passionate local residents. 
The strength and courage on show yesterday (and continuing to today in Michelle's case!) is a testament to the power of this community who are standing up to resist the fracking industry's attempts to ruin their home every step of the way. 

Feeling awestruck? Then come and show your support by joining the Rolling Resistance – a surging wave of resistance with creative actions every day in July to say NOT HERE, NOT ANYWHERE to the fracking industry.