The fight against fracking is intensifying.

Join us this June for Block Around the Clock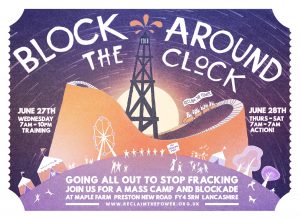 Camp: Wednesday 27 June to Sunday 1 July
Where: Maple Farm, Preston New Road, Lancashire
UPDATE: The FULL programme is now available HERE. Enjoy! 
Grab your friends, your dancing shoes and a helping of defiance and **ROCK ON DOWN** to Preston New Road, Lancashire this summer for a people-powered 'Block Around the Clock'!
Time and again, local communities have shown the fossil fuel industry it has no social licence to frack in the UK. But Westminster won't listen and, the government are continuing their plan to force this dirty drilling on communities. Over the next three months, Lancashire anti-fracking groups are organising a United Resistance of Love and Defiance to counter Cuadrilla's dangerous fracking plans at Preston New Road. In June Reclaim the Power is joining the resistance once more and going all out to stop fracking.
For 48 hours we'll be holding the frontline against fracking. In our hundreds and thousands, we'll be Preventing work from happening with our presence and sending a clear message to the frackers they are not welcome – not here, not anywhere. We're bringing our bodies, our love and our creativity back to Preston New Road this summer. To make it happen we'll need everyone's talents, skills, energy and resolve.
We're calling on everyone who opposes fracking in the UK to join us at our camp and Block Around the Clock mass action (Facebook event) – as we say NO to extreme energy. Not in Lancashire. Not anywhere.
We need a clean fair future powered by renewables.
Everyone is welcome, especially if you've never been involved in anything like this before. Our camp will provide food, friends to be made and a whole programme of trainings, workshops, talks and events to get informed, engaged and skilled up to take on the fossil fuel industry. In short, everything you need to be part of stopping fracking and enjoy yourself at the same time! We'd love you to come camp with us, but if you can't do drop by for a day visit.
The final showdown of the United Resistance and an epic 3 months of action, it's time to get up, get down, and show Cuadrilla what we're about. Let's Block. Around. The Clock.
BUILD THE MOVEMENT FOR CLIMATE JUSTICE! Spread the word and invite your friends or share our facebook event for Block Around the Clock. If you would like to get more people involved, we can support you to put on a screening of Power Trip, the awesome new documentary about the people powered resistance to fracking in the UK. Send us an email at info@reclaimthepower.org.uk to get started.
The fracking industry is on the ropes.
Cuadrilla is now a full year behind schedule. Bring your friends, family, lovers and pets and let's show them once more that we won't rest until the industry is dead and buried.
---
Update from November 2017.   The battle for a clean energy future stepped up a gear in 2017, as the fracking industry pushes ahead with operations across the country – but met with strong resistance.
In Lancashire, Cuadrilla are now drilling despite being several months behind schedule following direct action blockades throughout the year – including the 'Rolling Resistance' month of action in July.  Campaigners and grandparents have blocked roads leading to Third Energy's site in Kirby Misberton in North Yorkshire – who hope to test frack very soon.  Drilling has begun at Broadford Bridge (Bliingshurst, West Sussex) whilst chemicals-giant Ineos are conducting seismic surveys in the East Midlands.
And yet public opposition and organised resistance to fracking is also reaching new heights. Protection camps and local community groups are active and resisting on a daily basis across England.  The Scottish government recently renewed its moratorium on fracking indefinitely.  With the majority of trade unions against fracking, the Labour Party promising a ban in their manifesto and public support for fracking at an all time low of 19% – the industry is looking shakier than ever.
This is a battle we can win. As the legal appeals go on and the Conservative government over ride local democracy by pushing through fracking applications, regular direct action will be needed to stop the drillers, deter fossil fuel investors and create political space for publicly-owned renewable energy alternatives.
The Rolling Resistance in July 2017
Throughout July, hundreds of people from across the country joined the frontline resistance to fracking at Preston New Road in Lancashire. Every working day, affinity groups blockaded the gates to Cuadrilla's frack pad with their bodies, climbed on top of the fracking trucks carrying equipment or took action along other parts of the supply chain.  Mass demonstrations on Fridays saw around 200 people attend the gates each week including faith groups, trade unions, farmers, foodgrowers, families and more. Together with local communities, we delayed Cuadrilla's operations and sent a message to investors that this industry has no social licence to operate. Reclaim the Power are supporting affinity groups through the legal process: around 100 people face charges for taking action.
The situation at Preston New Road
Despite the setbacks, Cuadrilla are desperately pressing ahead with their fracking plans and help is needed to support the ongoing resistance. Local groups are still maintaining the Community Info Hub at Maple Farm and sleeping accommodation and food is available at the Camp of New Hope. If you can get down to Preston New Road – then do so. Travel and accomodation details are here.
The situation at Kirby Misperton, Yorkshire
Third Energy are expected to begin a short test frack next to the small village of Kirby Misperton (26 Nov 2017). Local groups have called out for support and actions to prevent fracking taking place. More details on the Kirby Misperton Facebook group.
[/column]
[column size="1-3″ last="1″]
[/column]
---
Some video highlights from the month of action in July 2017

Above: Monday 3rd July – 13 person lock on led by local Lancashire resident

Above: BBC coverage of the Community Info Hub at Preston New Road

Above: Mass demo: Farmers Against Fracking – Friday 21st July 2017

Above: Carnival for a Frack Free Future – Friday 28 July 2017

Above: Rolling Resistance Final Day – Monday 31st July 2017