Dozens dressed as 'Wally' act as decoy at Preston New Road fracking site gates while four lock into arm tubes.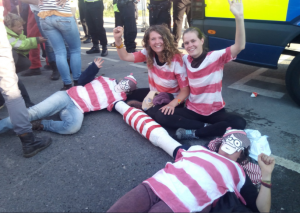 Lancashire, UK — Today four people blocked the entrance to the Cuadrilla fracking site at Preston New Road, halting work at the site.  They were joined by a crowd of people dressed as "Wally" and were cheered on by political folk rock band, Seize the Day. This is the 16th consecutive working day that the site has been disrupted, as part of a month-long 'Rolling Resistance' to fracking in the UK, organised by action network, Reclaim the Power [1].
The group, who had mostly travelled from Oxford, used arm tubes to form a barrier against incoming vehicles bringing materials and equipment to the site. The crowd were dressed in red striped t-shirts with masks of the 'Where's Wally' character. 
Alice Smith, taking part in today's action commented:
"We are here today because Cuadrilla are taking us for wallies by undermining local democracy and putting the environment at risk by pursuing fracking in Lancashire. But the real Wally is Cuadrilla as it becomes clearer that the fracking industry has no future in the UK."
Henry Grove, who was was part of the group in the lock on tubes, said: 
"We can still have fun while opposing fracking by poking fun at Cuadrilla. There was a positive, carnival atmosphere outside the site today, which just goes to show the overwhelming support from the local community for the protests." 
Protests by local community members have been taking place every day at Preston New Road in Lancashire since the start of 2017, slowing and often halting Cuadrilla's work to prepare the site for drilling [2]. Sustained opposition has caused months of delays, and millions of pounds of losses for Cuadrilla, and supply chain companies are cancelling their contracts. The Government's own statistics show that only 19% of the public support fracking, compared to 79% for renewables.
The action today is part of Reclaim the Power's Rolling Resistance month of action supporting local community efforts to resist fracking in Lancashire. 
##
CONTACT: For photos, interviews and more information – press@nodashforgas.org.uk , 07376530298
NOTES:
Reclaim the Power is a UK based direct action network fighting for social, environmental and economic justice. We have been working to oppose fracking since 2013 when we organised mass action at Balcombe. Since then, we've hosted anti-fracking action camps in Blackpool and Didcot Power station, and taken countless actions to expose and resist the industry as well as the businesses in its supply chain. This April, Reclaim the Power implemented a fortnight of action against the fracking supply chain – leading to a number of companies cancelling their contracts. Read more at:

 

www.reclaimthepower.org.uk

 

For examples, see Drill Or Drop (www.drillordrop.com/2017/03/01/drilling-diary-march-2017)