Contact: Jess 07905959159 press@reclaimthepower.org.uk
Photos available HERE and interviews available on request
Environmental groups take action against fracking and new gas infrastructure across the UK
Today, environmental, anti-fracking and grassroots groups across the UK including Reclaim the Power, Fuel Poverty Action, Extinction Rebellion, Frack Free Leeds and Preston New Road local groups have taken action to disrupt the fracking supply chain and object to new gas infrastructure. Action was taken in the following places:

LINCOLN: Since early this morning Reclaim the Power[1] have blockaded S LYON & SON Haulage company in Lincoln (LN6 5SA) who supply to the oil and gas industry [2]. Two of the activists are blockading the entrance to the company's HQ by locking themselves together with arm tubes whilst holding a sign saying 'Climate Breakdown: Your Responsibility.'

CHESHIRE: Activists entered Sibelco quarry near Congleton, scaling scaffolding at the quarry and holding a banner saying, 'Sibelco, Stop Supplying Oil + Gas Firms'. [3] Read the press release here.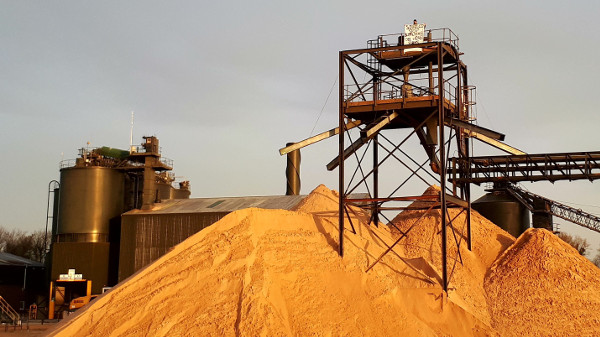 WINDSOR: In Windsor, activists assembled a 4 metre high fracking rig to shut down Centrica's[4] HQ, to protest the company's £100 million financing to controversial fracking firm Cuadrilla. Over 50 people participated in the creative protest to turn the main entrance of Centrica's office into a fracking site, complete with fracking rig, 80 metres of piping, fake money and oily executives. Read the press coverage here.

BRISTOL: Over 50 people attended an event outside SSE's Bristol Depot.  Activists tied colourful windmills to the fence of SSE's[6] Bristol Depot and staged a demo to object to the company planning to build three new gas-fired power stations across the UK. Read the press coverage here.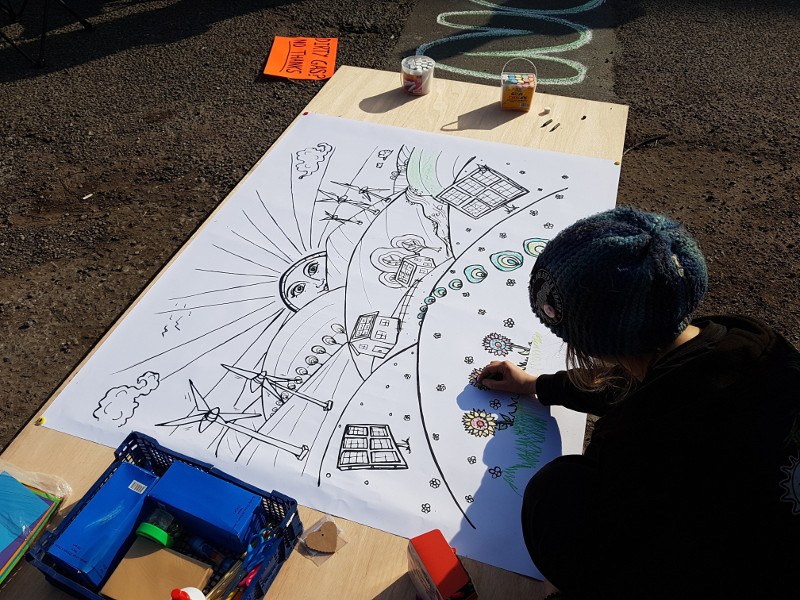 LEEDS: Reclaim the Power, Extinction Rebellion and Frack Free Leeds came together in a mass demonstration outside HSBC's branch[5] in the centre of the city to protest their funding of fossil fuel industries.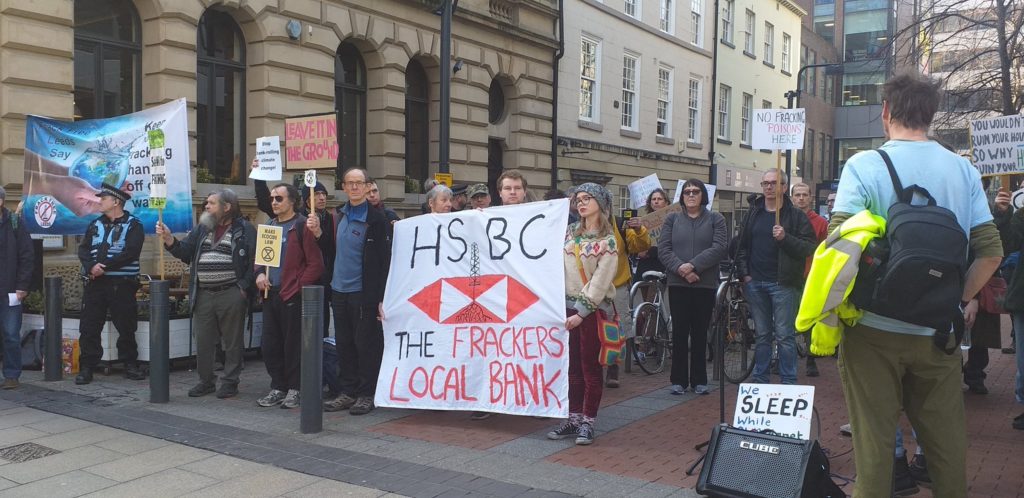 CAMBRIDGE: 'HSBC is the fracker's local bank' was the message outside and inside HSBC in the centre of Cambridge. Families entered the bank to stage a picnic whilst outside there were banners saying, 'Fossil Banks No Thanks'. Picture post here.

CARDIFF and BRISTOL: HSBC bus stop 'subverts' call out the bank's investments in arms companies, fracking, tar sands and fossil fuels across the world.
Jess Farmer from Reclaim the Power said:
'Fracking companies like Cuadrilla are polluting local communities and ignoring the force of democratic opinion against them. We're taking action today across the UK to highlight the crucial role Centrica and HSBC play in funding fracking, locking us into fossil fuel dependency and climate breakdown. Fracking companies don't exist in isolation – for the industry to survive they need access to land, water, money, politicians and more. Today we're exposing the web of fossil gas interests – which extend beyond fracking companies – that are sending us on a path to climate breakdown.'

Companies like British Gas have been in the news this week as they announced another price rise.

Rob from the Centrica action in Windsor said:
'We're coming to the end of one of the coldest months of the year, and millions of families around the UK are forced to choose between heating and eating, as British Gas and others announce yet another price hike this week. Meanwhile, their owners Centrica pumped $16m into expensive fracking operations. We need to move away from the Big Six cartel and demand a better system.'

The government have announced a fleet of new gas fired power stations. Terry Mobbs from outside SSE's officee in Bristol said:
'Building new gas plants will not provide secure, long-term jobs or bring down energy bills; a thriving renewable energy sector will. New gas plants will also blow our carbon targets and lock us into a recklessly dangerous fossil fuel future.'

Jess Farmer from Reclaim the Power continued:
'It's time for companies to realise that they cannot continue with business as usual. Local communities need clean, affordable and publicly-owned energy in warm, well-insulated homes. To tackle climate change we must put an immediate end to fracking and focus on creating a just transition away from fossil fuel that puts workers in polluting industries at the centre of the conversation.'

ENDS
Notes to editor.
https://reclaimthepower.org.uk/ – Reclaim the Power is a UK based direct action network fighting for social, environmental and economic justice. In particular, Reclaim the Power came to national prominence recently when members of the group, the Frack Free Three, were sent to jail for protesting fracking in Lancashire. National outcry lifted the group to prominence, and the group were soon released. More information here – http://frackfreefoursupporters.org/
S LYON are a haulage company who have provided services to numerous oil and gas companies including IGas Energy, Dart Energy, Cuadrilla Resources and Rathlin Energy. S LYON also has close ties to drilling company Meehan drilling https://frack-off.org.uk/companies/s-lyon-son/
Sibelco is the world's largest producer of hydraulic fracturing sands, through its subsidiary Unimin Energy Solutions in the US, and also currently produces UNIFRAC® Hydraulic Fracturing Sands in four European countries (Belgium, France, Russia and UK). Sibelco supplied Cuadrilla Resources (PDF) with frac sand for its ill-fated Preese Hall‐1 well in from quarries in Cheshire and seems likely to continue to do so. https://frack-off.org.uk/companies/sibelco-uk-ltd/
Last year, British Gas upped their prices by 5.5%, https://www.theguardian.com/business/2018/apr/10/british-gas-raises-energy-bills-by-55 and their owners Centrica pumped $16Mn into expensive fracking operations. This week, they have just hiked prices by another 10.5% https://www.dailymail.co.uk/money/bills/article-6720085/British-Gas-hiking-energy-prices-10-5-Ofgem-price-cap-rise.html?ns_mchannel=rss&ns_campaign=1490&ito=1490
HSBC is a major shareholder in IGas Energy, a company which is attempting to drill for shale gas at Misson Springs in South Yorkshire. HSBC is also reported to provide financial services to Cuadrilla, the corporation who were first to re-attempt fracking after it was halted in the UK in 2011, due to concerns about earth tremors. https://drillordrop.com/2019/02/12/opposition-to-fracking-targets-large-investors-in-shale-gas-exploration/
SSE are planning to build three new gas-fired stations: Keadby 2 in Lincolnshire (under construction), Abernedd in South Wales (in planning) and Seabank 3 in West Yorkshire (in planning).