Contact: 07749335574 e: press@nodashforgas.org.uk
FOR IMMEDIATE RELEASE
48-hour protest highlights fracking threat to water as wildfires spread to Lancashire
Preston New Road, Lancashire — Protesters at Cuadrilla's Preston New Road fracking site have highlighted fracking's potential impact on the local water supply, as wildfires in the north west spread to Lancashire on Thursday evening.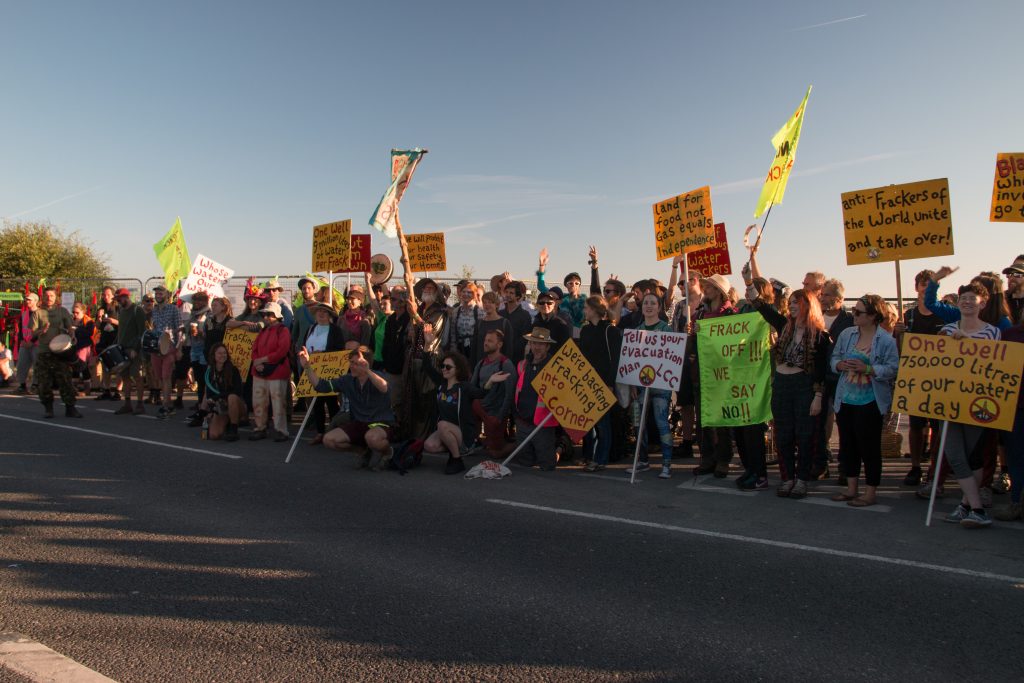 Hundreds of campaigners have convened at the protest, branded 'Block Around the Clock' by organisers Reclaim the Power [1] and now in it's 30th hour since it began at 6am on Thursday. Cuadrilla is currently awaiting final permission from the government to begin fracking, a process which uses large amounts of water to force gas from rock underground. A 2014 government briefing outlined that each fracking operation requires between 10,000 and 30,000 tonnes or 2 to 6 million gallons of water [2], which is on the low estimate side.
Water shortage has been an ongoing problem for residents in Lancashire. Surges in demand due to the ongoing heatwave have left many residents across the entire north west with low water pressure [3].  As fires, which have been raging since Tuesday night in Greater Manchester, spread to Lancashire on Thursday afternoon, urgent demand for water increases [4]. Climate change, to which fracking would contribute further, is already making extreme weather, such as heat waves, more likely in the UK [5].
Miranda Cox, a local councilor, said:
"Residents are increasingly concerned about domestic water supplies. They are fearful that drought measures will restrict their usage. The fracking process requires millions of gallons of water, some of which will never be recovered, the rest will be contaminated and have to be removed from the site. This is drinking water that will be taken out of the reservoirs to service an industry rather than support agriculture and domestic use. It's not sustainable."
Milo Phillips, of Reclaim the Power, said:

"Climate change means heat waves like these will become more and more frequent, affecting not just people in the UK, but especially poorer communities in the Global South. Fracking takes water from drinking supplies; presents a serious risk of contamination of our aquifers; and contributes to water shortage through climate change . It makes no sense when renewables are a clean and plentiful alternative. Faced with bullying tactics and evasion from the fracking industry and Government, we'll continue to support community resistance to fracking with a clear message: not here not anywhere.
Latest government statistics show that only 18% of the public support fracking, compared to 85% for renewables [6]. The House of Commons Environmental Audit Committee have also warned that fracking is incompatible with government targets to reduce emissions by 80% by 2050 [7]. Despite this, the Government last month announced plans to change planning laws to promote fracking, taking fracking decisions out of the hands of local authorities and allowing drilling to take place without planning applications [8].
On the eve of the protest, recently honoured actor Dame Emma Thompson sent words of encouragement and thanks to campaigners, adding:

"The fracking industry has been transformed from a national tsunami threatening to engulf us all to a handful of desperadoes. And while even the government has cooled down on a fracking revolution, unfortunately they're still happy to use their power to protect these polluters against the wishes of the people. Fracking isn't failing just because it's an absurdly stupid, polluting industry. It's failing because there's a strong and growing opposition."
**ENDS**
CONTACT: For interviews, high-quality photos or more information, contact 07749335574 or press@reclaimthepower.org.uk
Notes to the editor:
For live updates throughout the 48-hour event, follow

@reclaimthepower

on Twitter. Photos uploaded to

https://www.flickr.com/photos/reclaimthepower2015/

. The protest has been running since Thursday at 6am and will continue until Saturday at 6am. There will be workshops, games, talks and music throughout, and a programme of live music followed by a 'Discobedience' night-time dance-off on

Friday evening

. On Saturday there will be a demonstration through Blackpool (details available

here

). The accompanying camp at Maple Farm will be open from Wednesday afternoon until Saturday morning.