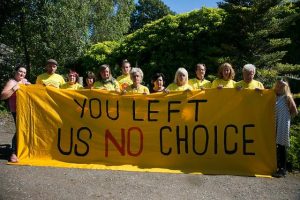 Join us to debrief the amazing Rolling Resistance and discuss where to focus our next efforts. Facebook Event here
Venue: Friends of the Earth, 139 Clapham Road, SW9 0HP, London
Day 1 (Saturday 23 September) – Debrief for those who took part in the Rolling Resistance. Working group feed back, reflections on actions and organising process, discussion of ongoing support for the Preston New Road, and sharing learning. 
Saturday night social! Dancing, frivolities, etc.
Day 2 (Sunday 24 September) – Considering the bigger energy picture, updates from different camps and campaigns, reflecting on RTP's strategy, and considering what's next over autumn and winter. 
We will be organising crash space for Saturday night (and Friday night if needed). If there is demand, we will put on minibuses from Leeds, Bristol and Lancashire. Message RTP if you need crash space or transport.
ACCESSIBILITY:
We want our meetings to be as accessible as possible. If you have any specific needs or questions, message Reclaim The Power on FB and we'll get back to you! Some general info…
– Meeting will take place on first floor and basement, both are fully accessible by lifts with accessible toilets available.
– Young children are welcome though we cannot provide childcare we're afraid!
– Food will be vegan and on a donations basis, we aim to provide for dietary requirements.
– We understand that meetings like this can be overwhelming or difficult to follow, individuals are free to come to as much as they feel able to and take breaks when they need to.