Reclaim the Power is taking direct action this summer against the new gas fired power stations fuelling the climate crisis, and training up to take action on the UK's Hostile Environment for migrants.
Our mass action camp – Power Beyond Borders – will equip you to get involved in a way that works for you.
What to expect from the camp?
The camp is one in a line of many previous camps we have done, against coal, fracking and more!

The camp will be at a secret location in the South East of England, within reach of London. We will let you know exactly where nearer the time.

It is family-friendly with a kids space with activities, toys, books and games for children. You can read our safer spaces policy here – this is our way of challenging oppression both inside and outside of our organisation.
We will take a piece of land and put up marquees, a kitchen, a renewable power stage, compost loos, and little sinks to wash hands, and you can pitch your tent there!
We provide compost toilets.
We provide vegan food.
We will run workshops, trainings and have musical entertainment!
We will work to make the site as accessible as possible, but it will be outdoors.
Once on site everyone is crew and we all pitch in to help.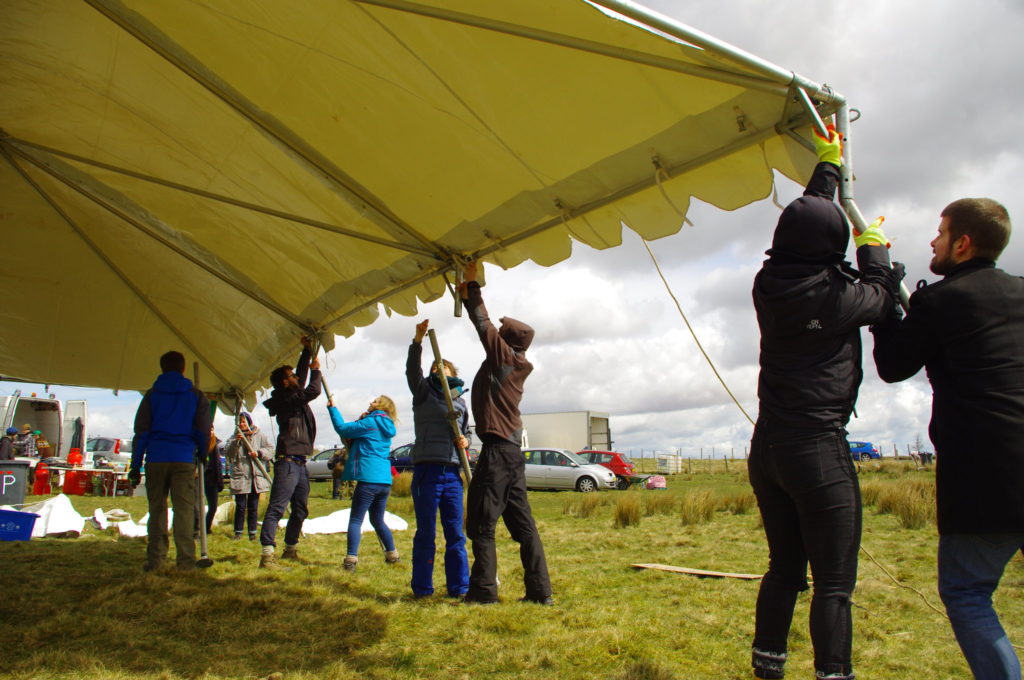 Entry is on donation, plus donations to cover food. It's expensive to run a camp so we hope people do donate but for those who cannot donate much or at all, that is no problem as the camp should be inclusive for all who want to take action!
To find out more see our website, follow us on Twitter, Facebook and instagram (@reclaimthepower), or contact powerbeyondborders@protonmail.com
Getting there
People are coming from all over the UK and across Europe to take on new gas and skill up on the Hostile Environment. Book your tickets or find people to travel with below.

London – Book your coach via this link!
Brighton – Brighton folk – click here!
Leeds – Register your interest via this link!
Sheffield – Facebook for coordinating transport here!
Bristol – Facebook event for coordinating transport here!
Norwich – Facebook event for coordinating transport here!
Scotland – Facebook event for coordinating transport here!
Ireland – Facebook event for coordinating transport here!
Oxford – TBC
Hebden Bridge – TBC
Cambridge – TBC
Or make your own way – further details available nearer the time. You can also get in contact if you want to organise transport from where you are.
Why Gas Fired Power Stations?
Drax Power is planning to build the UK's largest gas-fired power station this autumn. If this happens our energy system will be tied to fossil fuels for decades, condemning us to catastrophic climate breakdown. The effects are already being felt, by those who have done least to cause it.

Drax is the poster child for our broken energy system. Its new fossil gas plans are designed to line the pockets of powerful fossil gas corporations with public money, and will block the path to a better future. But we can stop them. With coal on its way out, we have the chance to transform our energy system to one that meets people's needs while using much less power, all of it clean and renewable.

It's up to us to turn off the gas and show investors and the government what real action for the climate looks like.
Why the 'Hostile Environment?'
In our communities migrants and people targeted by racism face multiple threats to their ability to lead their lives. In this Brexit-fueled era we want to stand in solidarity with them in facing down the racism of the state's Hostile Environment and the emboldened far-right. To do this work well we need to start by listening to the incredible activists at the sharp end of migrant justice.

So as well as informative and inspiring talks and trainings on climate, our program is packed with chances to learn about the impact of the Hostile Environment, and ways we can take action against it.

Accessibility
We are striving to make Power Beyond Borders accessible to as many people as possible.
To do this we are providing a baseline level of accessibility at the camp, and asking people who have other specific needs to get in touch to see how we can accommodate them.
If you would like to discuss anything we can do to make the camp more accessible for you please email powerbeyondborders@protonmail.com
At Power Beyond Borders there will be:
Wheelchair friendly pathways between main camp locations (we will have rubber mapping)
Electric wheelchair charging
Pre-constructed accessible camping space with wheelchair access (limited spaces)
Elevated sleeping (limited spaces). Note this will likely be straw bales with either blow up mattress / sleeping mat on top
We can provide extra blankets and pillows is needed
BSL interpretation for key sessions (if there is demand)
Any films or videos shown will also have subtitles
Wheelchair accessible minibus service from local train station
Hearing loop for key sessions
If you would like to discuss the specifications of these, or have any other needs that might provide a barrier to you attending the camp, please get in touch. If you expect to require use of these facilities it would also be good to know so that we can provide enough.
FAQs
Q: When will the location of the camp be announced?
For security reasons we can only do this at the last minute. We will be posting the location on the website, on our social media and via email. Make sure you are signed up to our newsletter!

Q: I can't make it for the whole camp – can I still come?
Yes! While we encourage people to stay to the end of the camp and take action with us (that's the point!), we recognise that people have other commitments. Come for as long as you are able. We are planning to have a shuttle service to the nearest station to help people come and go.

Q: How much does it cost?
Entry is on donation, plus donations to cover food. It's expensive to run a camp so we hope people do donate but for those who cannot donate much or at all, that is no problem as the camp should be inclusive for all who want to take action!
Q: What is a direct action/ mass action camp?
Direct action is shaping the world you want to live in through using your body to get in the way of unjust processes and industries. It is taking action directly to achieve our goals. Not asking the authorities to do it for us. Mass action is when many people take direct action collectively.
This mass action camp is a festival where we learn how to, and have the option to, take direct action together, for a better world.
Q: Does the camp end on the 30th or 31st?
It ends on the 31st July – when we'll need all hands on deck to take the camp down – but people are free to come and go as you want. Sorry for some confusion in some of the leaflets where the date is printed as 30th.
Q: Is it family-friendly?
Yes! We have a children's space with activities and games, and many families attend every RTP camp.
Got a question that's not answered here? Email info@reclaimthepower.org.uk