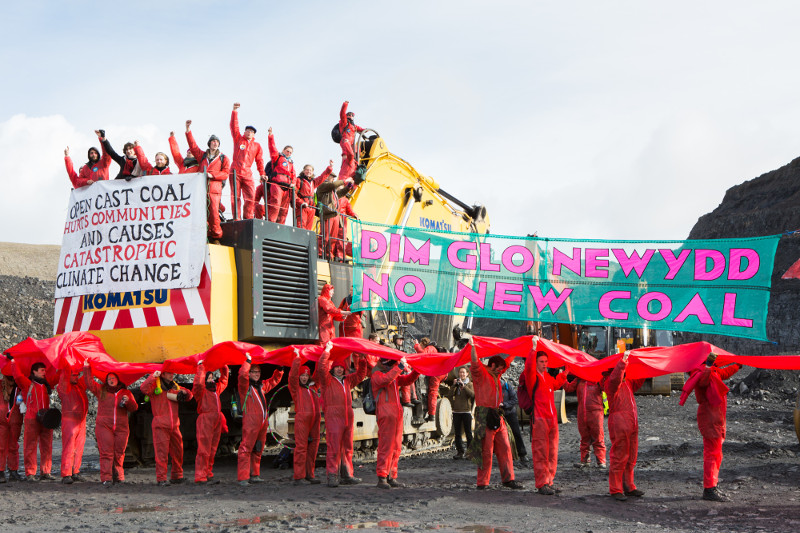 We shut down the UK's largest coal mine.
Wow. We'll never get tired of saying that.
After an amazing camp – jam-packed with speakers, workshops, entertainment, delicious food and more – over 300 of us took action on Tuesday 3 May 2016 to shut down Ffos-y-fran mine, and no-one was arrested. It was the biggest ever mass trespass in a UK mine.
1. It was BEAUTIFUL.
Take a look at all the amazing photos and videos from the weekend – seriously – they have to be seen to be believed (and, there's more to come!)
2. It was EFFECTIVE.
We actually halted mine operations – that deserves a mention. AND just two days before the Welsh elections, we were top story in nearly every Welsh paper and TV channel, as well as some UK ones. Check out this Storify of all the media coverage we got for a taster…
3. UNTIL WE WIN.
It was an amazing privilege working with the legendary local campaigners from United Valleys Action Group; hearing about their struggle and taking action alongside them. This is only the beginning of a relationship that will last – you guessed it – until we win!
---
WHAT NEXT?
We hope you've come away from End Coal Now feeling invigorated and inspired to take more action (after you've showered and slept, that is). So what next?? Here's a few ideas…
---