UK's most polluting power station blockaded over air pollution deaths and climate change in response to government consultation on coal phase-out.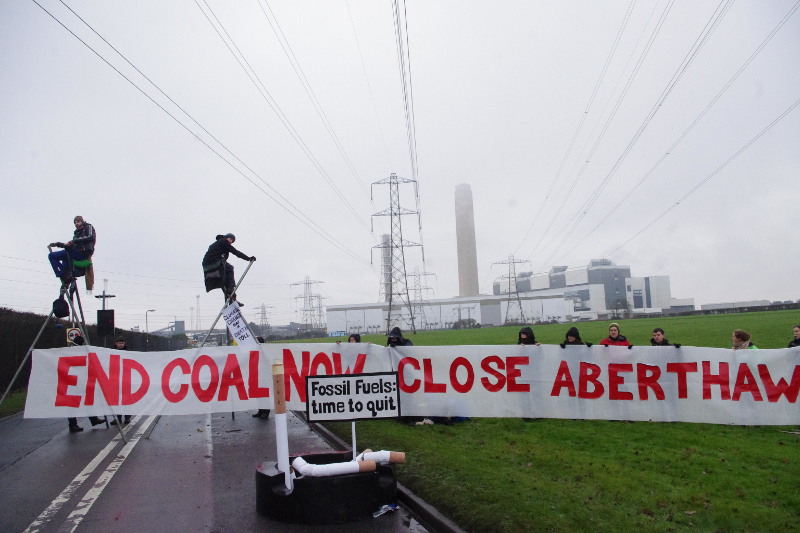 For immediate release: 12 December 2016    //    Photos available here.

CONTACT: For interviews or more information, contact 07587 679796 or press [at] reclaimthepower.org.uk
Dirtiest coal power plant blockaded as 'submission to consultation'
UK's most polluting power station blockaded over air pollution deaths and climate change in response to government consultation on coal phase-out.
Aberthaw coal-fired power station near Barry, South Wales has been blockaded by campaigners protesting local air pollution deaths and climate change. Activists formed a blockade with tripods, a giant ashtray and banners saying 'Fossil Fuels – Time to Quit' and 'Climate Change has a Death Toll' to prevent vehicles from entering and exiting the power station.
Aberthaw power station is the dirtiest power station in the European Union [1], producing high levels of nitrogen oxides which kill an estimated 400 people a year [2], impacting Cardiff, South Wales, Bristol and beyond. The UK Government recently lost a European Court of Justice ruling which found Aberthaw in breach of European air quality laws. [3]
The protest comes as the government holds its consultation on the planned phase-out of unabated coal by 2025, which campaigners claim is far too slow a timeline to meet climate goals [4]. It is exactly a year since the historic climate deal in Paris was signed, on December 12th 2015.
Sarah Joliffe from campaign group Reclaim the Power [5], says,
"Exactly a year on from the historic climate agreement in Paris, and the UK government is still undermining its own commitments by subsidising fossil fuels instead of keeping them in the ground.

Climate change touches all of us – whether it's the effect on our farmers, flooding in our cities or the insurance on our homes – and it's already killing hundreds of thousands of people around the world. We must act quickly to protect our communities, our economy and our shared environment.

We need decisive action to shut down these dirty power stations and invest in clean, secure energy systems that benefit us all. Anything less is a failure from our government to act in the best interest of the country. Please consider this blockade our submission to your consultation."
Grace Wild from Reclaim the Power in Cardiff, says:
"The toxic fumes from the power station are killing 400 people a year, and still the government is failing to act. Our community deserves air they can breathe. Instead of supporting clean energy, the government is choosing to waste public money on dangerous, outdated power stations like Aberthaw. These power stations need to be closed, and resources put into developing the growing renewables economy in the area.

Aberthaw is kept alive – despite breaking the rules – on the myth of supporting the Welsh economy. But it's our communities that are dying from air pollution, and our farming, tourism and coastal towns that will be devastated by climate change. If the government wanted to support the welsh economy, they should be supporting a thriving, jobs rich renewables sector."
In May this year, 300 people from Reclaim the Power occupied the UK's largest opencast coal mine at Ffos-y-Fran in solidarity with local communities affected by the opencast operations there. Ffos-y-Fran supplies Aberthaw power station and is strongly opposed by local people. Today's action is a continuation of the protests earlier in the year.
Last year the Welsh Assembly voted in favour of a moratorium on open cast mining in Wales, but the government has yet to act.
At present RWE's Aberthaw power station predominantly consumes coal from South Wales but it intends to switch to imported coal, most likely from Russia and Colombia.
Air pollution is a significant health issue for the communities living near the existing coal mines in Colombia and Russia. In Kuzbass, Russia's main coal mining region for export, 93% of the ground water is polluted by coal dust.[5] In Colombia young children experience breathing difficulties due to dust and close proximity of mines. [6]
———– ENDS ———
Contact
press@reclaimthepower.org.uk // 07587679796
Twitter: @reclaimthepower
Notes to Editor
[1] Air Pollution and Climate Secretariat Acid News (June 2014) p23
[2] Air Quality and Health Impacts of Aberthaw Power Station (September 2016) p17
[3] Aberthaw power station pollution 'too high, EU court rules
[4] Coal generation in Great Britain: The pathway to a low-carbon future
https://www.gov.uk/government/consultations/coal-generation-in-great-britain-the-pathway-to-a-low-carbon-future
[5] Reclaim the power is a grassroots direct action network taking action for social and environmental justice. Previous actions include high profile anti-fracking camp in Balcombe in 201s, mass occupation of the UK's largest open-cast coal mine, Ffos-y-fran earlier in 2016 and flash-mob and critical mass at Heathrow airport over expansion plans.
[5] Rozpotrebnadzor state report (2013) (in Russian) quoted in The cost of coal (2015) p7 https://ecdru.files.wordpress.com/2015/12/russian-coal.pdf
[6] https://newint.org/blog/2016/10/20/life-in-the-shadow-of-the-worlds-biggest-mining-company/