Contact: 07749335574 e: press@nodashforgas.org.uk
Photos available on Flickr.
FOR IMMEDIATE RELEASE
Hundreds convene at Preston New Road to shut down Lancashire fracking site
Preston New Road, Lancashire — Today hundreds of people joined a mass action camp to protest Cuadrilla's Preston New Road fracking site in Lancashire, exactly three years since Lancashire County Council rejected the company's application to drill for shale gas [1].
The event, advertised by anti-fracking network Reclaim the Power [2] as 'Block Around the Clock' and styled as a festival of resistance with live music and workshops, comes as the Government decides whether to approve Cuadrilla's request for permission to start fracking at Preston New Road. If permitted, it would be the first commercial fracking in the UK since 2011.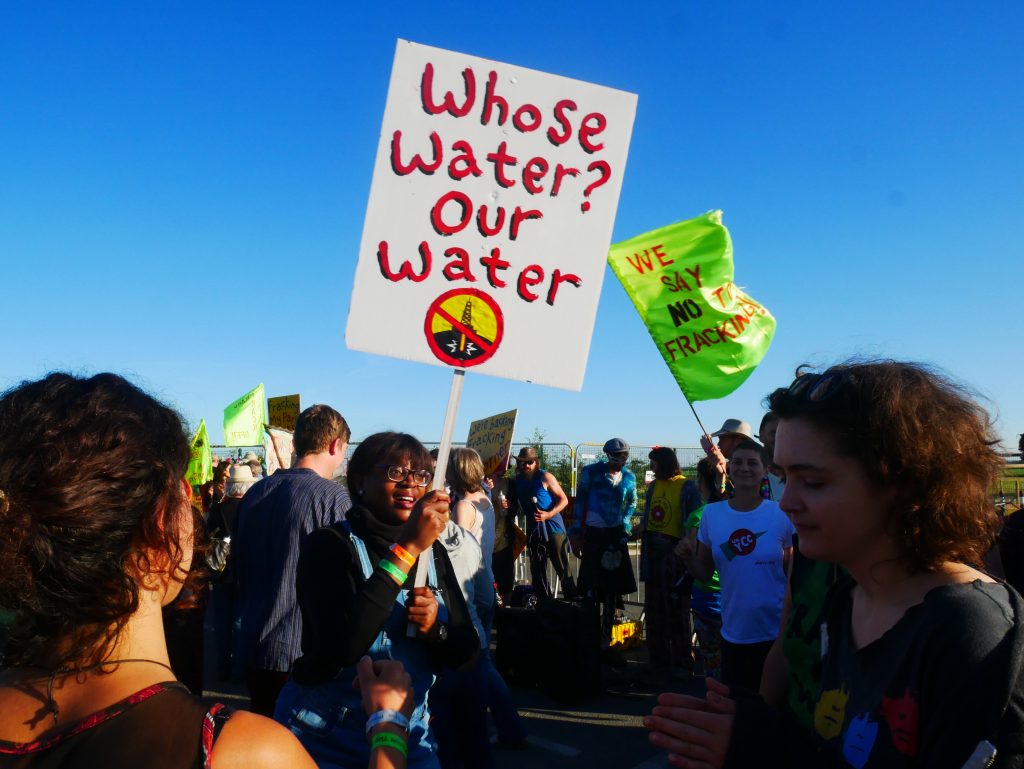 Latest government statistics show that only 18% of the public support fracking, compared to 85% for renewables [3]. The House of Commons Environmental Audit Committee have also warned that fracking is incompatible with government targets to reduce emissions by 80% by 2050 [4]. Despite this, the government last month announced plans to change planning laws to promote fracking, taking fracking decisions out of the hands of local authorities and allowing drilling to take place without planning applications [5].
On the eve of the protest, recently honoured actor Dame Emma Thompson sent words of encouragement and thanks to campaigners, adding:

"The fracking industry has been transformed from a national tsunami threatening to engulf us all to a handful of desperadoes. And while even the government has cooled down on a fracking revolution, unfortunately they're still happy to use their power to protect these polluters against the wishes of the people. Fracking isn't failing just because it's an absurdly stupid, polluting industry. It's failing because there's a strong and growing opposition."
The protest follows widespread local and national opposition to the controversial practice. A continuing campaign by locals has pushed Cuadrilla's plans to start fracking more than a year behind schedule at Preston New Road [6]. Earlier this month, a group of grandparents chained themselves together inside the Department for Business, Energy and Industrial Strategy to urge minister Greg Clark to oppose "dangerous" fracking [7].
Milo Phillips of Reclaim the Power said:
"Today we're celebrating and supporting local resistance to fracking, here in Lancashire and everywhere. With the climate crisis more urgent than ever, the last thing we need is new gas infrastructure that will lock us into dirty energy for decades to come. A rapid, just transition away from fossil fuels to renewables can create sustainable employment for local people while respecting the planet, unlike fracking. Our message today is clear: whatever the bullying and evasion tactics from government and the fracking industry, we'll be there organising with local communities ensuring it does not go ahead."
Claire Stephenson from local group Frack Free Lancashire, said:
"Despite the PR bluster that has been continually spun from government and industry, peer-reviewed science has highlighted the inherent dangers associated with fracking. Local people voted no to fracking in 2015, but our decision was overturned by the Westminster government, exposing local democracy as a sham. We continue to stand in defiant, unwavering opposition to this industry: Cuadrilla has zero social license to operate in our communities and we will continue to peacefully demonstrate that."
Across Europe, local communities and grassroots climate groups have announced escalating actions over the next few months to stop fossil fuel projects. Large actions of civil disobedience to disrupt coal mining are planned in Germany and the Czech Republic, while a mass action in the Netherlands will target Europe's largest gas field [8].
**ENDS**
CONTACT: For interviews, high-quality photos or more information, contact 07749335574 or press@reclaimthepower.org.uk
Notes to the editor:
For live updates throughout the 48-hour event, follow

@reclaimthepower

on Twitter. Photos uploaded to

https://www.flickr.com/photos/reclaimthepower2015/

. The protest will run from Thursday at 7am until Saturday at 7am. There will be workshops, games, talks and music throughout, and a programme of live music followed by a 'Discobedience' night-time dance-off on

Friday evening

. On Saturday there will be a demonstration through Blackpool (details available here). The accompanying camp at Maple Farm will be open from Wednesday afternoon until Saturday morning.