This Guide was prepared for the 'Supply & Demand' anti-fracking actions in March 2019.
Supply + Demand 2019 actions main page
Outline:
We are aiming to highlight and expose companies who are supplying goods and services to fracking companies – and also companies involved in pushing for new gas infrastructure. 
We have chosen a 2 day window to allow more flexibility in the types of actions people organise.  Local groups might chose to organise an event on the Friday as places will be open for business, or on a Saturday – where more people will be able to attend.
The type of creative actions could include:
publicly-announced, family-friendly demonstrations  

creative and outreach-based interventions, including pop-up demonstrations in town centres, leafleting and community outreach, or subvertising
affinity group lock-ons, blockades or occupations (Noe: taking action at some fracking-related sites carries additional legal risks.  If you are considering an action at one of these locations, please get in touch with us on info@reclaimthepower.org.uk.)
Questions to consider:
Do you want to organise a publicly announced demonstration with a bigger crowd  – or surprise affinity group action with a smaller team?
Where would you like to do it?  See this page for some background ideas.
Will the place be operating on a Saturday 23rd Febraury?  If not, should you consider doing it on Friday 22nd February?
Who do you want to attend your demo or action?  How will you contact them or how will you do publicity for your event?
Our Activist Resource Pack for more ideas on planning a demo or action. And our legal briefing has more information on things to consider.
For this action, we are using a previous Action Consensus from the Rolling Resistance against fracking in 2017.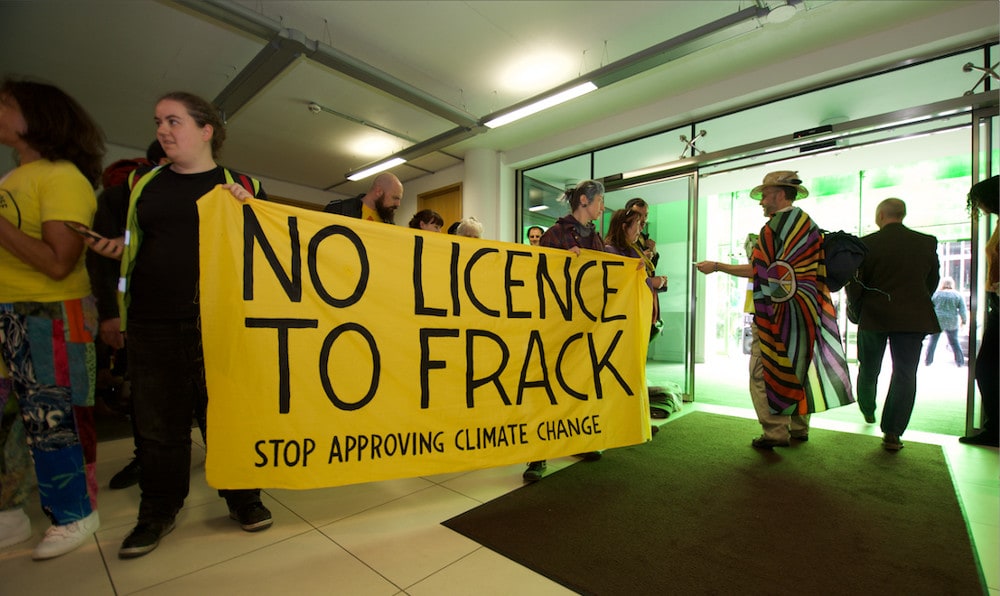 Create your own action!

In addition to the publicly announced demonstrations happening around the country, this is a call out for affinity groups to take autonomous action against the fracking supply chain and new gas infrastructure.  There will be a central Media team who can support and amplify your action + event.  Please contact press@reclaimthepower.org.uk with your name and phone number to start a secure conversation about how the Media Team can support you.  Please don't mention any details of your action in your email.