Anti-nuclear protesters lock themselves to car to prevent access to Preston New Road fracking site.
For immediate release: Wednesday 5th July 2017

Six campaigners from the southwest have travelled up to Lancashire and blockaded the Preston New Road fracking site, in protest at plans to frack just 5 miles away from Springfields nuclear fuel production plant. 

For interviews and images, contact 07404016676 or email press@nodashforgas.org.uk
Demonstrators locked themselves to a car and other heavy objects at 03:00, preventing any vehicles from accessing the site, where the drilling rig is expected any day now.
One of the group Nikki Clark, said,
"Fracking is dangerous and unnecessary. And fracking near a nuclear site is just madness."
"We all know that fracking causes tremors and earthquakes. If Preston New Road is allowed to go into full production, 60 wells will be sunk in close proximity to an active nuclear facility with tonnes of waste at risk of release into the open air. That is clearly not acceptable – we can't frack with nukes."
"Cuadrilla have been trying to stop our legitimate protest with disproportionate and unnecessary violence. We are defying that to demand an end to extreme energy sources like fracking and nuclear power. Renewables can provide the jobs and clean power we need in Lancashire and the UK."

Springfields produces the nuclear fuel for all of the nuclear power stations and Trident submarines in the UK. Previously there have been calls for no fracking site to be located within 50 miles of a nuclear establishment [1].
In response to this morning's protest, one Cuadrilla security guard stamped on the head of a protester lying on the ground. This comes the day after a demonstrator was restrained and punched by the site manager, amid growing concerns over policing and security at anti-fracking protests. [2]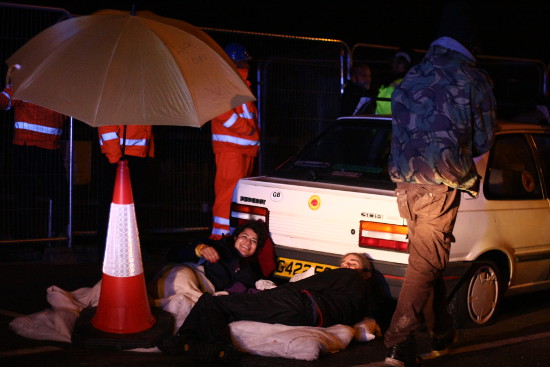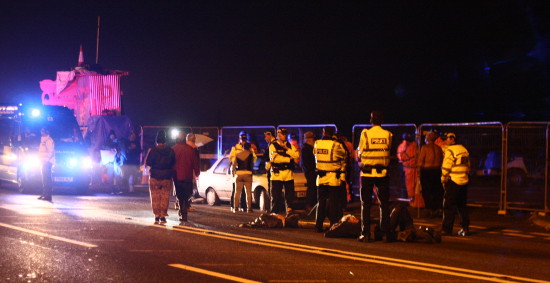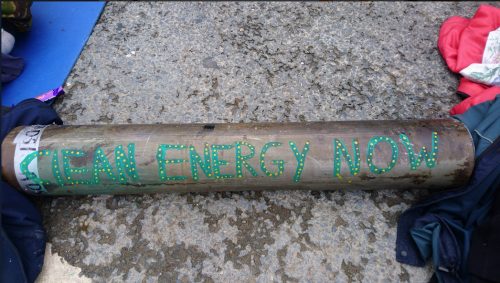 On top of years of local resistance to fracking in Lancashire, growing protests by local community members have been taking place every day at Preston New Road since the start of 2017, slowing and often halting Cuadrilla's work to prepare the site for drilling. Sustained opposition has caused months of delays and millions of pounds of losses for Cuadrilla, and supply chain companies are cancelling their contracts. A new survey has shown that 66% of Lancashire residents oppose fracking near their homes [3].
The action today is part of Reclaim the Power's Rolling Resistance month of action supporting local community efforts to resist fracking in Lancashire.
Notes to Editors
[1] In 2014, architect Maureen Kelly wrote to the then Department for Energy and Climate Change Minister Ed Davey to ask that no fracking site be located within fifty miles of a nuclear establishment.
[2] https://reclaimthepower.org.uk/news/demonstrator-restrained-and-punched-by-fracking-site-manager/
[3] 66% of Lancashire residents oppose fracking near their homes